Details

Category: news
Created on Wednesday, 15 June 2011 12:02
Last Updated on Tuesday, 02 April 2013 03:57
Written by todd vachon
Hits: 2468
Please copy this letter and send it to your mayor and then pass it on to others to do the same!
Dear Mayor Segarra,
As Hartford's Mayor, you well know how the reverberations of the economic crisis are  being felt here and across the country. Layoffs and budget cuts to healthcare, education and other vital services have plunged cities across the nation into very difficult times.
Communities cannot afford the continuing diversion of monies to endless wars, militarism and death. Our nation is projected to spend more than $126 billion for the wars in Iraq and Afghanistan, wars that the majority of Americans no longer support.
In many cities, crime and violence are on the rise; yet community leaders cannot appeal to gangs to stop violence in the streets while our country continues to be an ongoing purveyor of violence across the globe.
As the Mayor of Hartford, the first capital city to pass a City Council resolution to Bring Our War Dollars Home for the vital needs of our citizens, you are well positioned to lead other mayors toward a progressive vision of what our US cities could again become when resources return to them.
During the Conference of Mayors 73rd Annual Meeting, June 17-21 in Baltimore, a draft resolution will be submitted for review, Calling on Congress to Redirect Military Spending to Domestic Priorities. This resolution supports the speedy ending of the wars in Iraq and Afghanistan and calls on the U.S. Congress to redirect war dollars to meet vital human needs, promote job creation, rebuild our infrastructure, aid state and local governments, and develop a new economy based on renewable, sustainable energy. (The text of the resolution has been modified since it was first publicized and is included below.)
We urge you to sign on and register your support for: a foreign policy guided by diplomacy and a federal budget focused on rebuilding America. Can we add your name to this growing list of visionary mayor-leaders who have co-sponsored the Resolution?

Antonio Villaraigosa, Los Angeles
Carolyn Peterson, Ithaca
Dave Norris, Charlottesville
David Coss, Santa Fe
John Duran, West Hollywood, CA
Gayle McLaughlin, Richmond, CA
Bob Kiss, Burlington, VT
R.T. Rybak, Minneapolis
Frank Ortis, Pembroke Pines, FL
Matthew Ryan, Binghamton
Paul Wiehl, Athens, OH
Brenda Lawrence, Southfield, Michigan
Joy Cooper, Hallandale Beach, FL
Joseph C. O'Brien, Worcester, MA
Paul Soglin, Madison, Wisconsin
Stephanie Rawlings-Blake, Baltimore
David L. Konick, Rock Mills, VA
Joanne Twomey, Biddeford, Maine
Details

Category: news
Created on Thursday, 24 February 2011 04:01
Last Updated on Tuesday, 02 April 2013 06:31
Written by todd vachon
Hits: 1785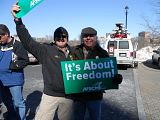 Socialist Party of Connecticut
Report from the Wisconsin Solidarity Rally
State Capitol, Hartford, February 23, 2011, Noon
Jim Marra, Secretary, SPCT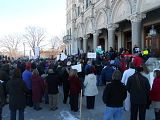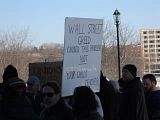 The Socialist Party of Connecticut joined the Solidarity Rally in Hartford on February 23 to support Wisconsin workers who are valiantly fighting Wisconsin Governor Scott Walker's shameless attempt to deny workers their collective bargaining rights. The SPCT joined its union and activist brothers and sisters to call for complete economic, political, and social equality for all. The message was clear, the demonstrators demanded secure collective bargaining rights, pensions, health-care benefits, and social security not only for Connecticut workers, but for all workers throughout America.